ABOUT
Little is the first Spanish SME manufacturer of all-electric cars.
This high-tech company is involved in all the stages of product development. Their efforts in continuous improvement lead them to investigate innovative design, new materials and new devices for v2v, v2d and v2i connections, to differentiate from others and to develop new technologies that may allow them to optimize the electric cars that they manufacture in Little's facilities in Spain.
2004 – Little is founded.
2010 – Opens factory in Mos, Spain, launches model LITTLE 4
2011 – Model Ebox launch
2013 – Model Ebox6 launch
2014 – Model Panter 4 launch
2015 – Model Ebox 9 launch
TEAM
RUBEN BLANCO
Founder & General Director
EMPLOYEES
Three full-time employees
LITTLE'S STORY
Little was established in 2004 as the the first Spanish manufacturers of 100% electric cars. The company was created by a group of automobile professionals as a response to their concern about environmental conservation.
Activity began in earnest in 2010 with the opening of a plant in Mos, Spain.The components that make up Little's vehicles are assembled in their factory, which allows for high customization according to customer demand.
Little is a clean alternative for travel in cities, coastal areas, industrial estates, and natural areas such as zoos and forest parks. It offers solutions suitable for both individuals and for companies that own and deploy large fleets of vehicles.
Little is currently in the growth phase and is working on expansion in Latin America, designing new models, and developing new technology.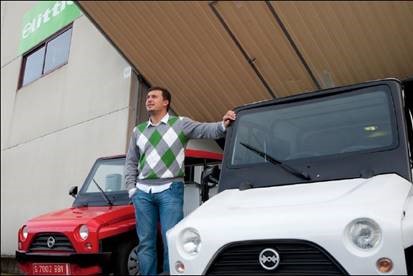 LITTLE & IMPACT
Little is participating in IMPACT Connected Car, the new program from IMPACT Accelerator, as a Pioneer Success Case. During the 30 months of the program, Little will take part in events to promote IMPACT Connected Car, C-Car Hubs, and the connected car community, while showcasing the company itself as an example of a best practice in the vertical. Little will also receive an equity-free grant as part of its participation in IMPACT Connected Car, which it will use to continue to develop and improve its innovative offering.
OBJECTIVES
During the IMPACT Connected Car project, Little plans to focus on an app which will allow their fleet management customers to improve connections between vehicle and user and even among Little's vehicles.