RobotUnion closes the last open call with 206 applications submitted
https://www.impact-accelerator.com/wp-content/uploads/2019/05/Grande_1-1-1024x576.jpg
1024
576
IMPACT Accelerator
https://secure.gravatar.com/avatar/ed787e819690f7e706fdfb0a569ce213?s=96&d=identicon&r=g
RobotUnion closes the last open call with 206 applications submitted
RobotUnion closes the last open call with 206 applications submitted
40 startups and SMEs selected in the second RobotUnion Open Call will be invited to the Jury Day in Warsaw to pitch in front of Jury and win the possibility to enter the Acceleration program with full technical and business mentoring services and up to €223,000 in equity-free funding.
Projects participating in RobotUnion will take part in the digitalization of the European Industry, as part of the framework of the Horizon 2020 program (Grant agreement 779967) and the Digital Single Market of the European Commission.
The area of open disruptive innovation has attracted most of the applications, followed by manufacturing, healthcare, agri-food, and civil engineering.
RobotUnion, the pan-European robotics acceleration program, closes its second and last open call with 206 submissions. The applications came from 33 countries with the following distribution: Spain (10,7%), followed by UK (9,7%), Italy (8,7%), Israel (8,3%), France and Denmark (7,3%), Germany (6,3%), Netherlands (5,3%), and Poland (4,9%).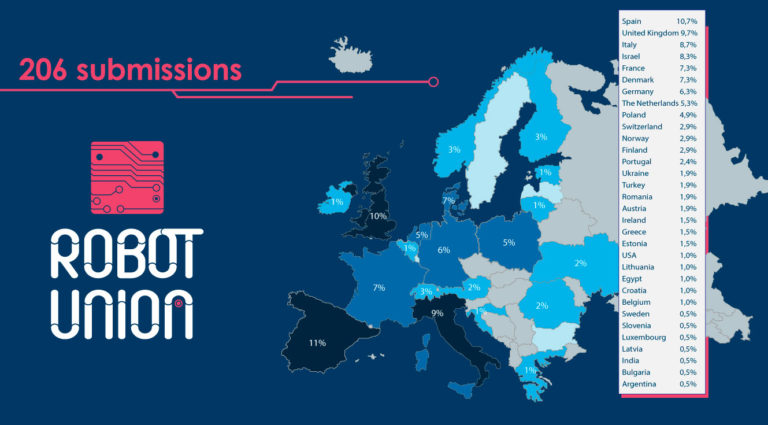 RobotUnion project aims to respond to social and industrial needs in the landscape of technological solutions for 5 verticals: agri-food, healthcare, manufacturing, civil engineering, and open disruptive innovation. The last category is for applicant innovations that go beyond the proposed fields.
At the forefront of the applications are solutions involving human-robot interactions and artificial intelligence. In the healthcare vertical the trends go towards rehabilitation and assistance. Startups who applied under the manufacturing vertical are drones and nano-technologies. Submission examples for civil engineering are mapping services and construction mobility. As for agri-food, we can find crop monitoring and harvest machines. Applications of augmented reality and applied to education can be found at open disruptive innovations.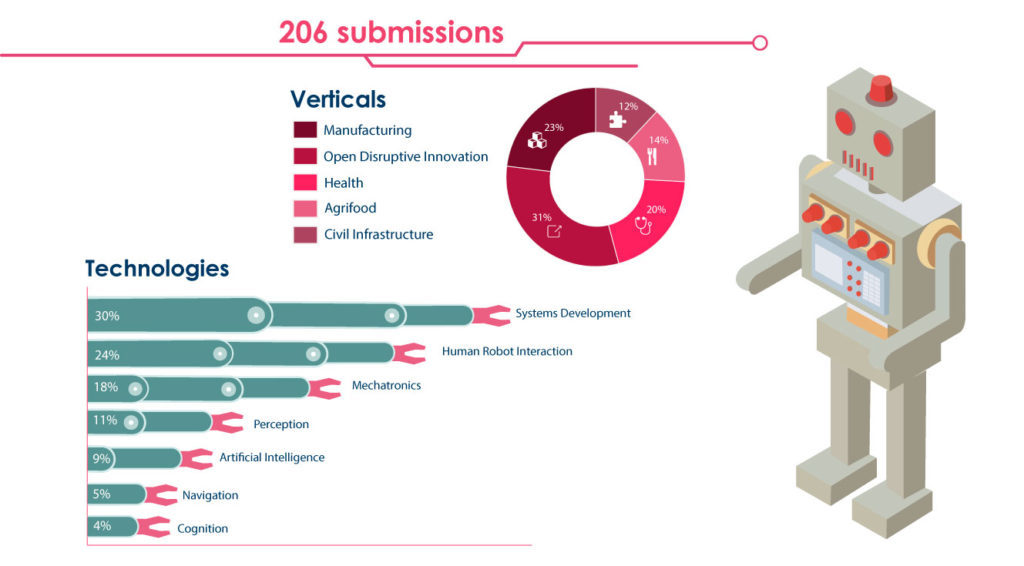 NEXT STEPS
Now each of 100 highest ranked proposals will be evaluated by 4 independent experts with wide expertise in Robotics. At the end of May, the final ranking will be created and the top 40 projects will be invited to pitch in front of the RobotUnion's 3rd of July at PIAP Headquarters in Warsaw (Poland).
Want to know more? Watch our video from the 1st Jury Day in San Sebastian last year.
After the pitching day, 20 winners will be announced to enter the Feasibility Phase, which is a 2-month period where Business and Technical experts will work with the teams on defining a Feasibility Plan, specifying the project's technical and market potential. Once the 20 projects are defined, they will all be invited to the Welcome Camp in Odense (Denmark) on 2-3rd October to present their final plans. The 10 projects with the most potential will be then selected to enter the Product Acceleration Phase with full mentoring provided by RobotUnion Technical Experts and will get access to Facilities provided by TOP European Technological Centers from the consortium.
During all the program, startups may get up to €223,000 equity free and receive support from RobotUnion's investment partners: CHRYSALIX, ODENSE SEED AND VENTURE and BLUMORPHO to raise around €1M of private financing. All startups will take part in RobotUnion communication actions by participating in TOP Robotics events (Global Robo Expo, Viva Technology, EU Robotics Forum) where they can present their solution and meet investors and potential clients.
ABOUT ROBOTUNION
The RobotUnion acceleration program is led by FundingBox, in collaboration with 14 partners, top Research and Technology Organizations, Corporates, Business Mentoring, Communication and Investment experts who all together have created a unique program which gathered researchers and top business professionals who understand the Robotics startup needs and challenges in order to help them to scale up their business.
The 16-month online premium acceleration program does not require to move to one place, it's done remotely! There will be some special events like bootcamps, networking, Robotics events, business and investment mentoring sessions which might require startups to travel in order to help them to improve their business in different aspects.
During Product Acceleration stage each startup will have a Technical Mentor assigned and will have access to the facilities of the Research Organizations that form part of the Consortium: VTT, DTI, TU DELFT, TECNALIA, and PIAP.
The Technical Mentor will be a Ph.D. or a Senior Researcher from one of RobotUnion's research organizations, that is, with a wide background in robotics and with an overall vision of all the technologies/abilities addressed. He or she will be allocated to a given startup to match its needs to what is technologically feasible.
In the middle of the product acceleration phase, the business mentoring (Stage 3) will start. This part is managed by ISDI who will incorporate high-level business mentors from IMPACT Accelerator. This stage is focused on helping startups in defining the Business Plan and it will start with Training Master Class Week in ISDI´s headquarters (Madrid), which is a high-quality one-week face-to-face training program.
In the end, 4 startups will enter 3-months period (Stage 4), led by Blumorpho, where besides of making the Proof of Concept of the products developed, they will become a part of a VIP investment program which aims to multiply the Funds received through Private and Public sources.
All Participants will also have the chance to be in direct contact with leaders of the agri-food, healthcare, civil engineering and the manufacturing sector through the participation of corporate organizations including MADE, Ferrovial Servicios, ARLA Foods and FENIN.
Even more IMPACT
Liked this post? Subscribe to our newsletter and stay on top of the latest IMPACT news. Open calls, job postings, opportunities for startups, and more!