IMPACT GROWTH SMART AGRIFOOD
IMPACT Growth Smart AgriFood is the new project from IMPACT Accelerator, one of the top ten accelerator programs in the world.
In partnership with Danone, we are looking to select growth-stage startups working to solve problems related to farming, agri-logistics and food awareness, and striving to create new applications for traceability, logistics and quality control in production and distribution.
The startups that are selected for the program will receive €100,000 equity free — up to €250,000 for the best projects — as well as training and mentoring and the option to receive private investment from one of our partner investors and VCs, Kibo Ventures and Invesdor.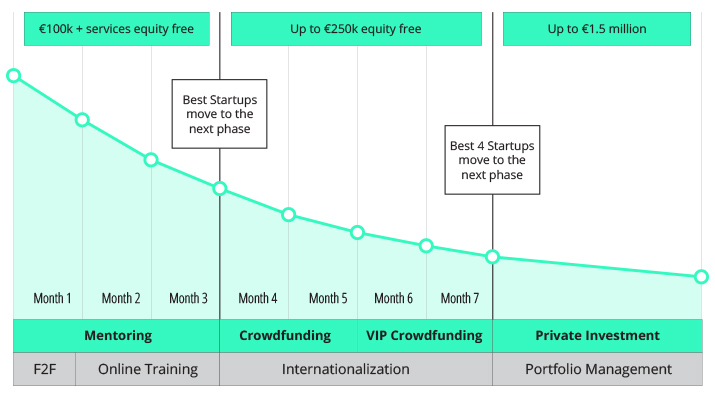 This acceleration program is powered by FIWARE, an open-source technology that is enabling a new generation of smarter applications which exploit large scale, real-time 'context information'. Startups selected for IMPACT Growth are expected to make relevant use of FIWARE technologies.
Learn more about FIWARE here.
MENTORING
IMPACT Growth connects startups with mentors, top experts from  all around the world. Each startup has its own Follow Up Mentor, who helps startups with all aspects of their business. Startups also can request mentoring sessions with specialists from fields such as strategy, digital marketing, legal, and more. Meet our mentors here.
Additionally, each vertical has a special partnership with an international corporation. Smart AgriFood is partnering with Danone to offer startups specialized mentoring, commercial partners & further opportunities.
TRAINING
IMPACT acceleration kicks off with a week-long, face to face bootcamp taught by internationally renowned "teachers" (founders, investors, hackers). Startups also receive courses in subjects such as internationalization, founding strategy, growth hacking, and more.
SMART AGRIFOOD
Smart AgriFood startups work to solve the challenges of farming through technology breakthroughs related to smart farming, focusing on sensors and traceability; smart agri-logistics, focusing on real-time virtualisation, connectivity and logistics intelligence; and smart food awareness, focusing on transparency of data and knowledge representation.
The partner for this vertical is Danone. Danone is an international corporation focusing on four business lines: Fresh Dairy Products, Waters, Baby Nutrition and Medical Nutrition, to bring health through food to as many people as possible. Present in over 140 countries, Danone has expanded in strategic geographies. Danone will bring its experience and knowhow to help startups in the Smart AgriFood sector succeed.
STARTUP CRITERIA
IMPACT Growth is designed for startups in the growth stage. The ideal startup:
has a product already on the market
already has initial investment
has established partnerships with corporates or strategic partners
is looking to open in new territories in the short term
is looking for investment to grow the business
is established in Europe or willing to open in Europe before entering the program
Have more questions? Check out our FAQ.
IMPACT Growth is no longer accepting applications.