IMPACT GROWTH SMART CONTENT
IMPACT Growth Smart Content is the new project from IMPACT Accelerator, one of the top ten accelerator programs in the world.
In partnership with DOCOMO Digital, we are looking to select growth-stage startups working to address the content needs presented by electronic media, telecommunication, gaming, leisure, tourism, culture, education, entertainment, advertising, video and social networks, and others.
The startups that are selected for the program will receive €100,000 equity free — up to €250,000 for the best projects — as well as training and mentoring and the option to receive private investment from one of our partner investors and VCs, Kibo Ventures and Invesdor.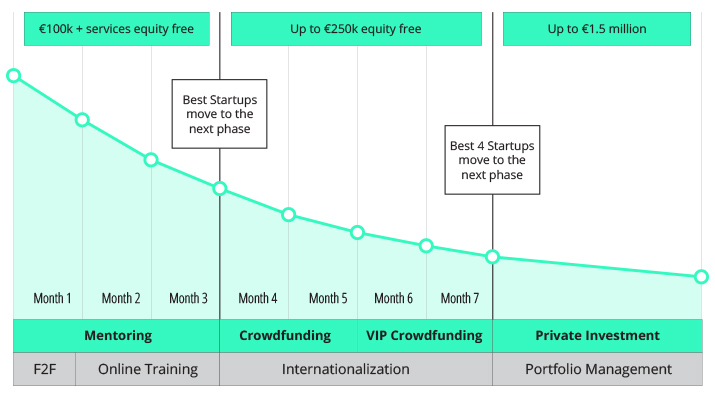 This acceleration program is powered by FIWARE, an open-source technology that is enabling a new generation of smarter applications which exploit large scale, real-time 'context information'. Startups selected for IMPACT Growth are expected to make relevant use of FIWARE technologies.
Learn more about FIWARE here.
MENTORING
IMPACT Growth connects startups with mentors, top experts from  all around the world. Each startup has its own Follow Up Mentor, who helps startups with all aspects of their business. Startups also can request mentoring sessions with specialists from fields such as strategy, digital marketing, legal, and more. Meet our mentors here.
Additionally, each vertical has a special partnership with an international corporation. Smart Content is partnering with DOCOMO Digital to offer startups specialized mentoring, commercial partners & further opportunities.
TRAINING
IMPACT acceleration kicks off with a week-long, face to face bootcamp taught by internationally renowned "teachers" (founders, investors, hackers). Startups also receive courses in subjects such as internationalization, founding strategy, growth hacking, and more.
SMART CONTENT
Smart Content looks for startups operating in the mobile content sector as content provider and/or content distributor, dealing with innovative products in the domain of electronic media, telecommunication, gaming, leisure, tourism, culture, education, entertainment, advertising, video, VR, and more.
The partner for this vertical is DOCOMO Digital. DOCOMO Digital is part of NTT DOCOMO, a leading global technology innovator. With over 15 years of expertise in mobile content, distributed through its proprietary platforms to manage customer acquisition and mobile payments, thanks to the connection to over 200 mobile network operators in the world. DOCOMO Digital will bring its international experience and know-how, supporting the startups in the Smart Content sector to grow and succeed.
STARTUP CRITERIA
IMPACT Growth is designed for startups in the growth stage. The ideal startup:
has a product already on the market
already has initial investment
has established partnerships with corporates or strategic partners
is looking to open in new territories in the short term
is looking for investment to grow the business
is established in Europe or willing to open in Europe before entering the program
Have more questions? Check out our FAQ.
IMPACT Growth is no longer accepting applications.