Digital bootcamp is the week-long event that kicks off IMPACT Connected Car's acceleration
But what, exactly, does that mean?
Digital Bootcamp is part of the acceleration process designed for the startups in IMPACT Connected Car, the automotive and mobility-focused vertical of IMPACT Accelerator. Normally it's an exclusive, invitation-only event, but in this post, we're throwing open the doors to give you a glimpse of what goes on. If you're inspired, apply to IMPACT Connected Car (before October 18th, 2018) and who knows? You might find yourself taking part in the next Digital Bootcamp.
What is a Digital Bootcamp?
Digital Bootcamp kicks off the acceleration program. It's a week-long event that brings the newly-selected startups together with mentors, IMPACT Connected Car partners, digital experts from top organizations, and star entrepreneurs from all over the world. Each day is packed with intensive classes and seminars from experts. Not only do startups learn a lot, but it's the first chance for them to get to know each other, so there's also plenty of time for networking – and fun.
The first Digital Bootcamp took place at ISDI's headquarters in Madrid and was attended by the fourteen startups that comprised IMPACT Connected Car's first batch. The startups came from all over Europe, including The Netherlands, Austria, Sweden, Italy, and more.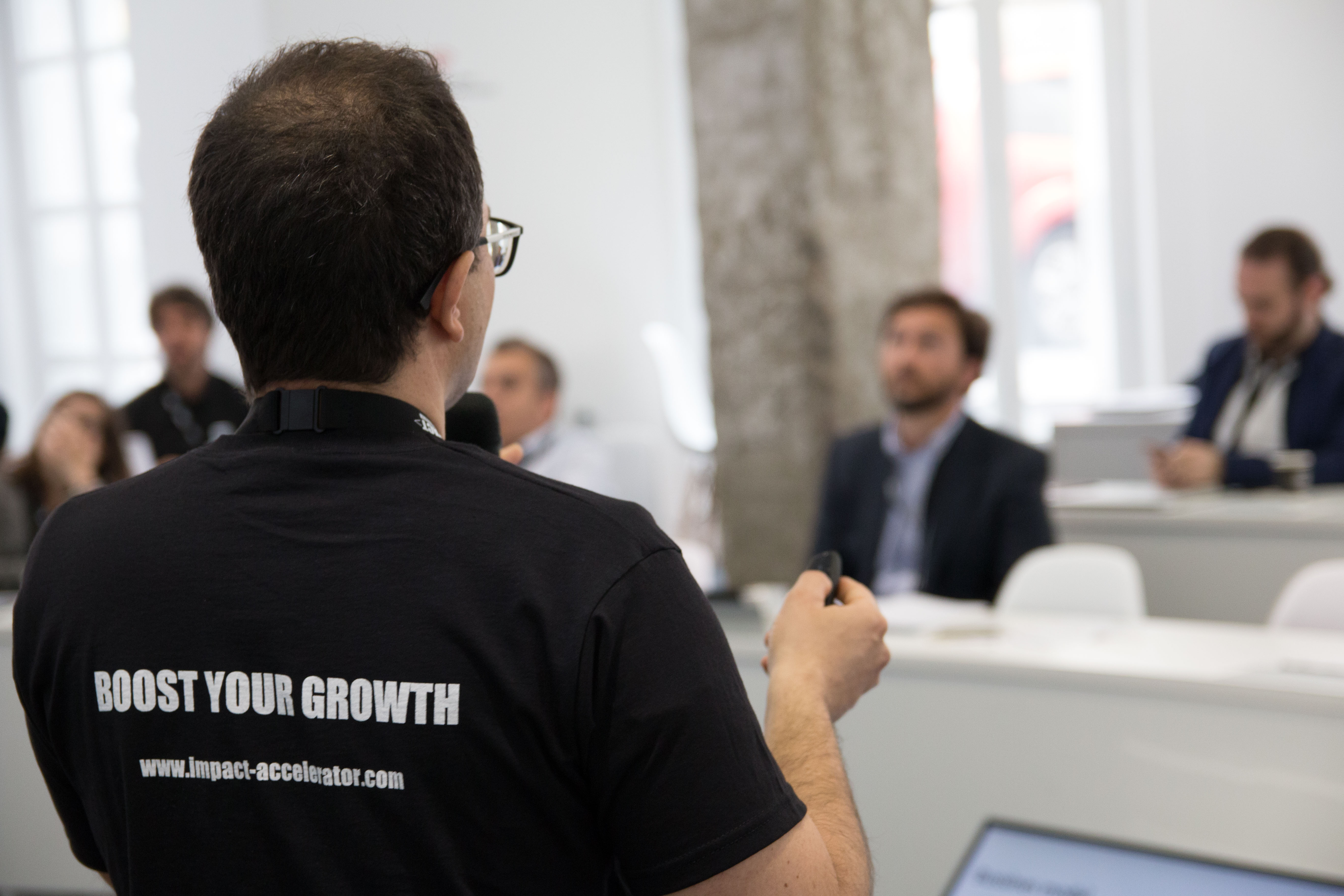 Representatives from IMPACT Connected Car's partners were also present. There are 17 partners in total:
Welcome Day
Digital Bootcamp starts with a grand Welcome Day. In the morning, startups meet the partners and hear about the acceleration program to come, what's expected of them, and what they will learn.
Mentors play a key role at the event, as they do throughout the mentoring process. At IMPACT Accelerator, each selected startup is paired with a "follow up mentor," an expert custom-matched for the startup's needs. Mentors come from well-known organizations such as Google, Tesla, and more. This mentor will meet regularly with the startup and, over time, forge a positive relationship with the startup team that will help the company grow.
Startups and mentors meet each other for the first time on Welcome Day in a mentor unveiling ceremony, one of the more dramatic moments of the day.
In the afternoon, startups give their pitches but with a product demo twist. The focus isn't on trying to "sell" their startup — they've already been selected for the program, after all — but rather to demonstrate what, exactly, their startup does. Gone are the PowerPoint presentations and market projections. Instead, startups show off dashboards, give live demonstrations, and reveal the day-to-day of their product.
Towards the end of the day, an exclusive keynote speaker addresses the startups, offering advice and valuable insights. The keynote speaker for the first IMPACT Connected Car Digital Bootcamp was Soujanya Bhumkar, former VP of Global Partnerships and founder of Cooliris.
Finally, the day ends with an informal drink and a chance to network.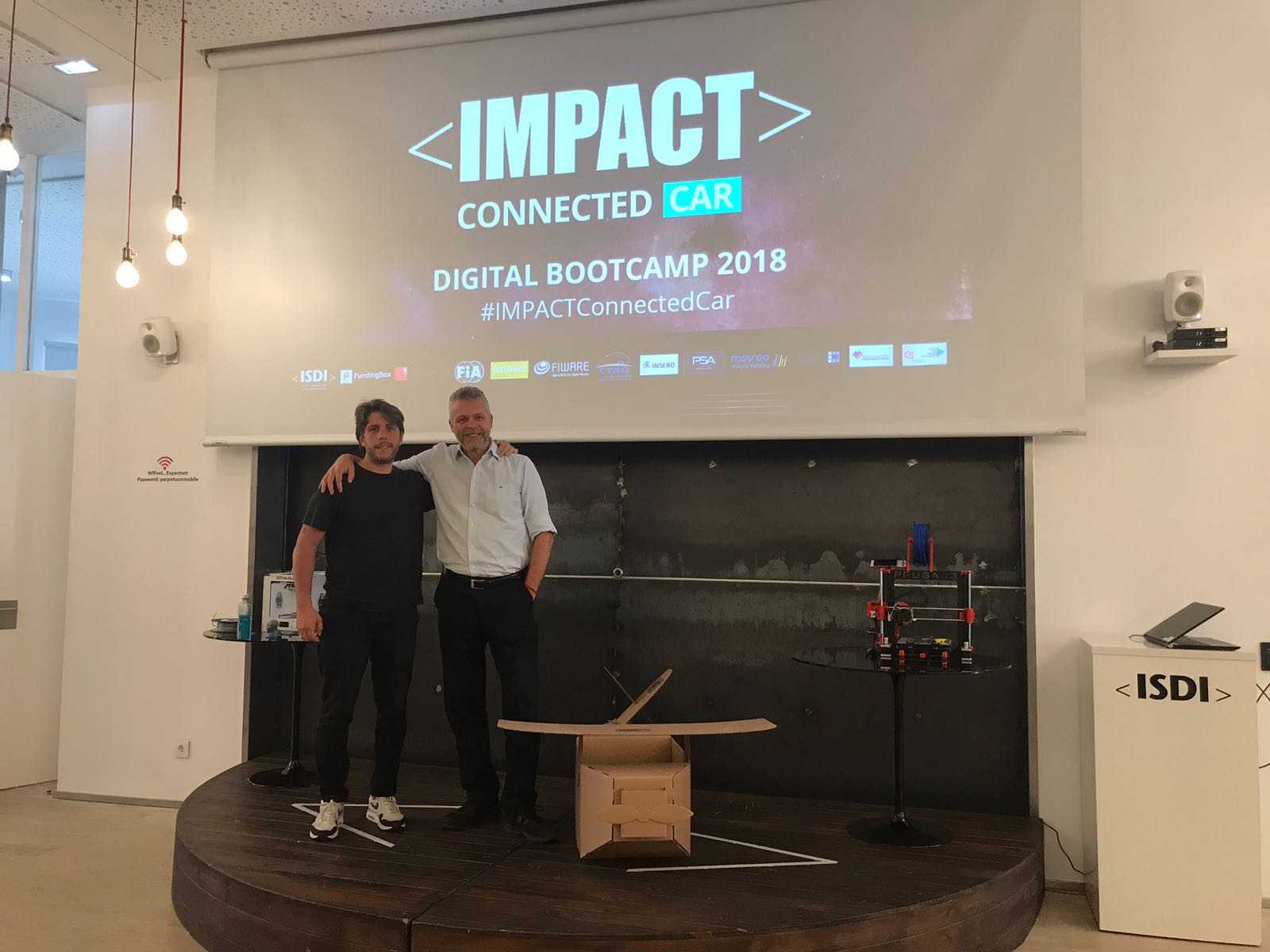 Roll up your sleeves
The rest of the week is devoted to an intensive schedule of classes, workshops, and inspirational talks. All material is carefully curated to help startups get the most out of their time in the Bootcamp, and teachers are expert professionals drawn from top tech companies around the world.
Each day tackles a different theme, including internationalization, funding, dashboards, culture, and exits. It's a tiring week, but well worth it. Startups come away with a solid knowledge base, skills, and connections to help them grow their companies. In the words of one startup:
IMPRESSIVE!! I don't think that I have ever come across such quality accelerator program. The content of the lectures is extremely appropriate with a good mix of both hands on tools and theoretical explanation plus real life examples. The speakers were simply amazing and inspiring.
The rest of the startups agreed. Participants were asked to fill out a daily survey – part of our ongoing commitment to live due diligence and constant improvement.
At the end of the week, the average class session was rated 8.8 out of 10, meaning the startups were taking away a lot of value.
What's next?
On the last day, startups hop on trains or catch planes back to their home cities. IMPACT's acceleration program is "delocalized," meaning that startups don't have to move to a new place in order to take part. They can strengthen the European startup ecosystem without disrupting their local network.
Over the next three months, the startups will meet with their mentors, set goals, measure progress, and grow, grow, grow!
What do startups get out of IMPACT?
Don't take our word for it. Let them tell you:
Be a part of IMPACT
Even more IMPACT
Liked this post? Subscribe to our newsletter and stay on top of the latest IMPACT news. Open calls, job postings, opportunities for startups, and more!