Better World is awarded as the best European startup for the automotive sector
Better World is the second winner of the IMPACT Connected Car second Pioneer Award
The SME accelerated by IMPACT Connected Car will receive a 15.000€ award (on top of other European funding already granted to Better World) and will be participating in Autonomy 2020 in Paris
Better World is an SME dedicated to collecting and analyzing customer feedback in the automotive sector, relying on proprietary Artificial Intelligence and Natural Language Processing Algorithms.
Barcelona, 17th October 2019 – Better World, accelerated by IMPACT Connected Car, was selected as the winner of the ICCAR Pioneer Awards. Daniel Ritter, Co-founder & CEO of the winning startup, identified a simple challenge that their solution addresses: Carmakers who want to increase their customer-centricity need to focus on their feedback management processes and this is where Better World comes in. They enable carmakers to be customer-centric through AI-based feedback management in a 3-step process: 
First, the feedback is collected inside the car makers' organizations, on the web, and through the connected car; then it is analyzed with their own AI / NLP (Natural Language Processing) algorithms; finally, a structured and efficient browsing experience is provided, as a result of the analyses, for the teams in organizations, along business use-cases with measurable ROI.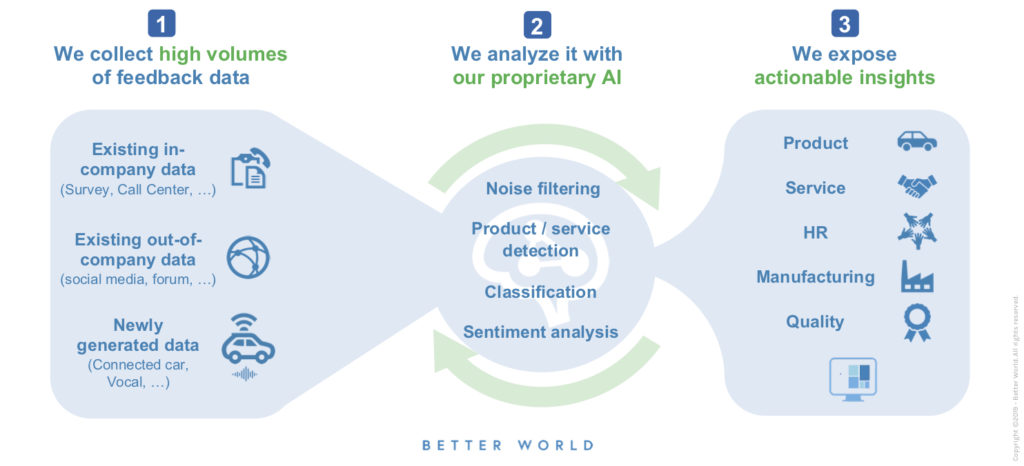 The Impact for carmakers is massive, as it contributes to increasing their revenue base (better products and services, better advertised and better sold) and decreasing their cost base (more focused R&D, faster quality incidents detections). 
What does Better World offer? 
Better World offers an end-to-end feedback management solution, specifically dedicated to the automotive sector. This means that feedback is collected from the sources specifically adapted to the automotive industry, including in-car vocal feedback. 
The natural language algorithms are tailored to the automotive-related language. Their solution is able to detect automotive products and services with accuracy (e.g. the precise generation of a given car), allowing competitive benchmarking. 
The main use cases are focused on product, allowing to define the specification of products and services; manufacturing, to improve the efficiency of factories, leveraging the insights of operators; service, adjusting it to the customer's expectations; and quality, detecting and launching corrective actions earlier and faster. 
According to Daniel Ritter, "The automotive sector is undergoing massive changes, especially towards more electrification, more autonomy, more sharing and more connectivity. This implies that car makers urgently need to define where they want to go, in that fast-changing context. We believe that it is critical to leverage the input of users in that process, which is precisely what Better World is enabling."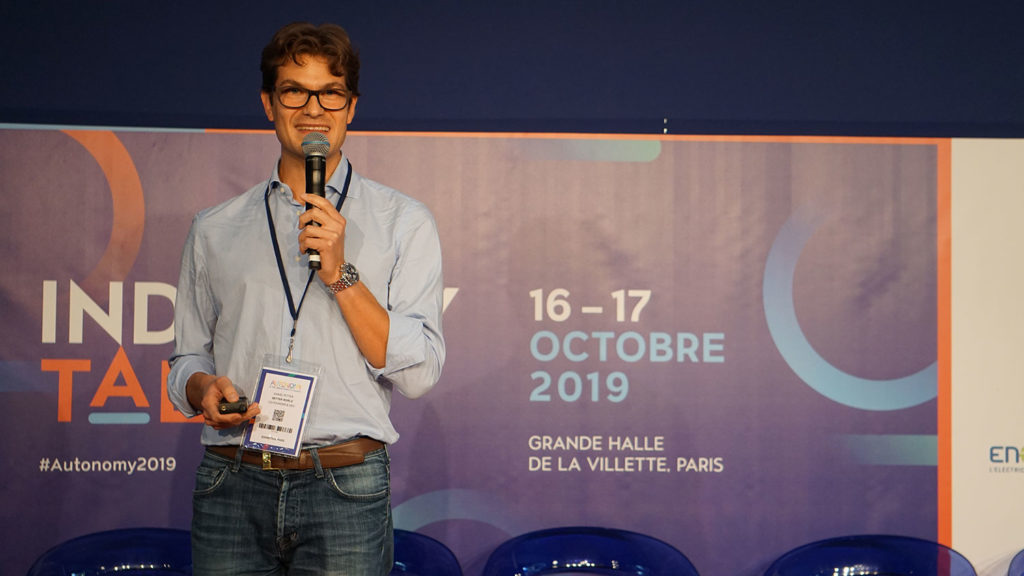 Pioneer Awards Ceremony
The criteria used to evaluate the 18 competing projects were based on a score of technical, business and corporate performance after the mentorship/coaching of experts on these 3 areas. Better World successfully completed the three stages of the IMPACT Connected Car Acceleration Programme within the program portfolio. 
The Award Ceremony for the second round has taken place during Autonomy Paris 2019 on October 17th at 17:15 at Stage 1. David Seoane, as a Project Manager of IMPACT Connected Car, briefly presented the advancements of the 3 years of the project in regards. 
The €15.000 award was handed over by Virginie Perron, as the Project Officer of the European Commission from this project.This award comes on top of other European funding already granted to Better World.
The winners affirmed "Our conviction is that the future of automotive customer feedback collection is vocal and inside cars, compared to lengthy paper surveys that are filled out at home. Imagine your car asking for your feedback (if you agreed to upfront) while you are stuck in a traffic jam. We believe this prefigures the future of automotive market research."
About IMPACT Connected Car
IMPACT Connected Car aimed at creating value link-chains for innovation in the Connected Car open space, with vehicles, infrastructure, device and TelCo interactions, and consumer and business services. Achieved through the acceleration and smartization of over 60 disruptive SMEs. The project distributed €2.1 million funding, equity-free. 
IMPACT Connected Car was led by top players in the fields of innovation and automobiles, including Mobile World Capital Barcelona, ISDI, FundingBox, Ferrovial Servicios, CTAG, FIA, Groupe PSA, the FIWARE Foundation, PARP, Insero, Mov'eo, MSAK, LPNT, Argus, HEVO, Little Electric Car, and Botcar.
This project received funding from the European Union's Horizon 2020 research and innovation program under grant agreement No 731343.
For further information:
Even more IMPACT
Liked this post? Subscribe to our newsletter and stay on top of the latest IMPACT news. Open calls, job postings, opportunities for startups, and more!