The 31 best startups of connected mobility in Europe
The final 31 best startups of connected mobility in Europe were accelerated by IMPACT Connected Car. The program distributed up to €2.1 million equity-free funding during the last three years.
Barcelona, 23/10/2019. IMPACT Connected Car is a mobility startup acceleration program focused on the cars of the future, driverless transportation, connected cars, and innovative experiments in the automobile industry. 
IMPACT Connected Car was designed to give a boost to all parts of the value chain, including automotive startups and industry SMEs. During the last three years, projects selected for the accelerator program smartized their connected car startups while learning from experts in business, technology, corporations, and funding. IMPACT Connected Car program partnered with global brands including PSA Group, Ferrovial Servicios, and the Federation Internationale de l'Automobile.
The participating companies had access to up to €60,000 per startup, equity-free, in startup grants and up to €50,000 per startup equity-free. Up to €2.1 million were distributed. The selected companies from 12 European countries and Israel were accelerated in the areas of business (ISDI), technical coaching providers (CTAG, INSERO, MOVEO, and the clusters AUTOKLASTR and LPNT) and large corporations (PSA Group, Ferrovial Servicios, FIA, FIWARE Foundation).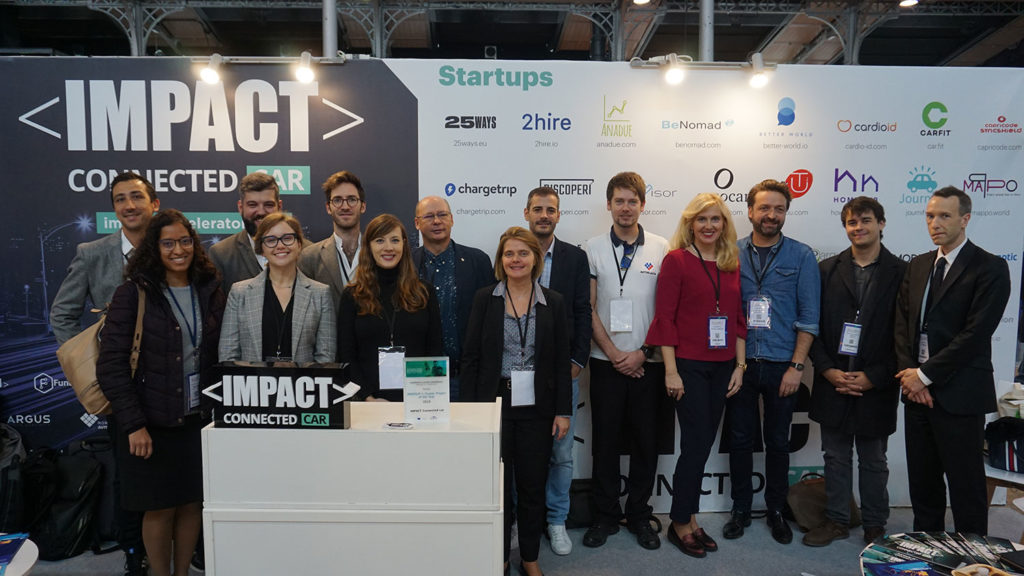 Here's a list of the 31 best Connected Car companies shaping the future of mobility in the European landscape: 
CardioId (Portugal):

CardioID developed Cardio Wheel, a system composed of software and hardware, in the form of a steering wheel with conductive leather. It acquires the heart signals from the driver's hands.

www.cardio-id.com

Carfit (France):

Carfit developed an AI-based technology that reads car vibrations to make maintenance easier and mobility safer.

www.carf.fit

 

Chargetrip (The Netherlands):

Chargetrip is a B2B Smart Navigation SaaS platform providing intelligent predictive routing for electric mobility. Chargetrip makes electric driving and charging effortless for individual drivers and fleets.

www.chargetrip.com

 

Eccocar (Spain-Germany):

Accelerating through efficiency, the world's transition to sustainable mobility. Empowering fleet operators to get the full potential of their vehicles with their shared mobility platform.

www.eccocar.com

Howmyhub (Spain):

Howmyhub is unlocking the full potential of garages by enabling people to control their garage door from their smartphone, from anywhere.

www.howmyhub.com

Motor AI (Germany):

Motor AI has built an Artificial Intelligence system that solves edge cases in autonomous driving, using data collected by its Knox device.

www.motor-ai.com

Parkbob (Austria):

Parkbob organizes global parking data and transforms it into actionable information to enable better mobility decisions.

www.parkbob.com

Situm (Spain):

Cloud-based indoor positioning services with higher precision and minimal infrastructure.

www.situm.es

Spark Horizon (France):

In order to accelerate EV adoption, between EV and charging stations. Spark has deployed the first public charging network, sponsored by sustainable brands, at high-traffic locations.

www.sparkhorizon.com

Trafficnow (Spain):

Analysis and visualization of Connected Car Floating Data in our existing cloud or on-premise data analytics platform.

www.deepbluesensor.com

Worldsensing (Spain):

A more reliable tool for traffic management related to parking spaces thanks to this automatic enforcement backend, which will minimize the number of agents dealing with parking fraud.

www.worldsensing.com

Xapix (Germany):

Xapix is building an orchestration platform for digital mobility services, providing vehicle manufacturers, suppliers, and service providers with ultimate flexibility, speed, and security around data interoperability.

www.xapix.io

Ximantis AB (Sweden):

Ximantis is a smart, green, software, technology company offering intelligent solutions in the field of mobility management, connected cars, smart cities.

www.ximantis.com

 

25Ways (Germany):

A provider-independent mobility platform that encourages behavior change towards sustainable mobility.

www.25ways.de

 

2hire (Italy):

Technology that connects all kinds of vehicles, allowing remote-controllable interactions and access to parameter readings.

www.2hire.io

 

Anadue (Ireland):

Location intelligence analytics products that help cities and mobility companies understand and manage the impact and benefits of mobility services.

www.anadue.com

 

BeNomad (France):

By enabling accurate energy consumption and EV route planning, BeNomad facilitates the transition towards e-mobility.

www.benomad.com

 

Better World (France):

Leveraging the collective intelligence of drivers to help automotive engineers conceive better cars.

www.better-world.io

 

Capricode (Finland):

SyncShield secures vehicle connectivity, improves over-the-air management and helps to digitize business processes.

www.capricode.com

 

Discoperi (Spain):

System Eye prevents road accidents and monetizes automotive data thanks to its built-in Blockchain protocol.

www.discoperi.com

Drivvisor (Spain):

A driver-monitoring app that uses computer vision to detect and prevent distractions and fatigue, and analyze further driving features.

www.drivvisor.com

 

Go To-U (Ukraine):

A platform that connects drivers of electric vehicles and eco-friendly businesses.

www.go-tou.com

 

Journify (Spain):

Journify is a carpooling app that facilitates daily commutes.

www.journify.es

 

Mappo (Israel):

A geo-culture content layer created by a robust algorithm combining texts, music, and AR video.

www.mappo.world

 

Micocar (Spain):

An app that saves users 10% to 50% on all taxi rides through a more efficient marketplace where ride prices are calculated according to supply and demand.

www.micocar.com

 

Newport (France):

Phebe is a vocal companion providing in-car mobility services and products.

www.phebe.io

 

Ozone Drive (Spain):

A tech startup specialized in the design and implementation ad-hoc of electric mobility solutions.

www.ozonedrive.com

 

Parquery (Switzerland):

Analysis of images from any camera to detect vehicles and provide real-time results on both parking availability and duration.

www.parquery.com

 

Safe Mode (Israel):

Driver-centric software to empower fleets and shared mobility platforms with automated tools for management.

www.safemode.co

  

Secmotic (Spain):

Plug and play product designed to improve road-workers safety using AI and edge computing techniques.

www.secmotic.com

xMotion (France):

Turning driving data into opportunity and saving lives. www.xmotion.io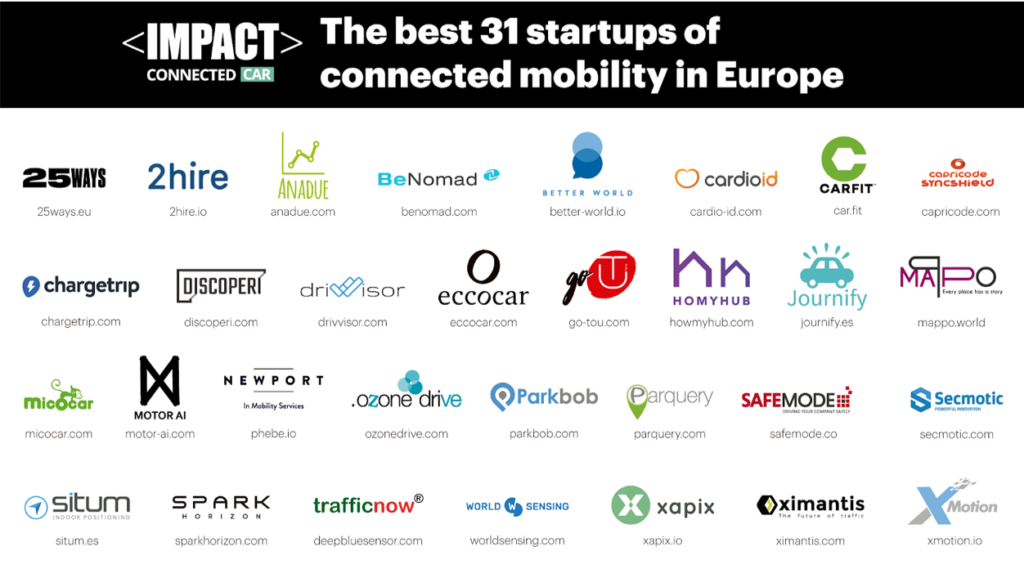 About IMPACT Connected Car
IMPACT Connected Car aimed at creating value link-chains for innovation in the Connected Car open space, with vehicles, infrastructure, device and TelCo interactions, and consumer and business services. Achieved through the acceleration and smartization of over 60 disruptive SMEs. The project distributed €2.1 million funding, equity-free. 
IMPACT Connected Car was led by top players in the fields of innovation and automobiles, including Mobile World Capital Barcelona, ISDI, FundingBox, Ferrovial Servicios, CTAG, FIA, Groupe PSA, the FIWARE Foundation, PARP, Insero, Mov'eo, MSAK, LPNT, Argus, HEVO, Little Electric Car, and Botcar.
This project received funding from the European Union's Horizon 2020 research and innovation program under grant agreement No 731343.
For further information:
Even more IMPACT
Liked this post? Subscribe to our newsletter and stay on top of the latest IMPACT news. Open calls, job postings, opportunities for startups, and more!