How data can eliminate your digitization doubts
A few years ago we (Good Rebels) made the claim, in our white paper on Data Driven Marketing, that:
"…a Data Driven culture is not that of a company governed by automation or mathematicians in which there is no room for creativity or lateral thinking, it is precisely that which favors creative thinking and a project towards the future based on the quality and solidity of decisions. It is a culture that does not use data to block ideas but to generate better ones."
A new culture has been built around the availability of data. The act of simply generating or analyzing data does not mean you're necessarily data driven – however you're on the right track. Data helps us to understand what's really happening within our own organization – and when we can predict the future of our organization through data, we edge that much closer to our goal.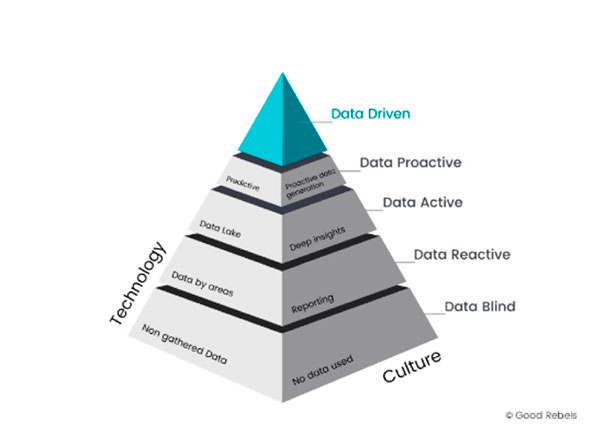 'The act of simply generating or analyzing data does not mean you're necessarily data driven'
How do we begin this journey? If your interest is in obtaining, integrating and visualizing data then there are four key stages you can follow:
Data in a digital world
Those of us who work within the field of communication, marketing and advertising know the challenge of managing increasingly sophisticated digital assets; new channels and new advertising formats make the managing of metrics more complex. Not because we don't have access to the right data, but because making the most of that data requires a radically different approach.
To tackle this challenge head on, we need to first define our priorities – develop a strategy centered around understanding the value of the data we currently have access to, and how to access data that is useful but inaccessible.
As we explained in our article on behavioral analytics, there are three types of data:
Registered data: stored in our CRM or on a marketing automation platform.
Observed data: behavioral data collected at each stage of the user journey.
Obtained data: comments, surveys, reviews shared by consumers that reveal their opinions on our brand, products or services.
You may be asking yourself – how exactly is the data we gather going to help us? How are we meant to store this data in order to help us achieve our global vision?
Marketing and technology teams will have to work together to identify the types of data that is most valuable and the sources we can obtain that data from (our own platforms and/or external platforms). Then, it's critical that we ensure this data is reliable, start gathering only the most valuable data and store it within a Data Lake (or any other similar system) before beginning the integration and visualization process.
Regarding technology
If we're already obtaining data through owned digital assets, then it's time to centralize them on a platform of our own. Doing this enables us to use technologies and platforms that facilitate the processing of more complex and heterogeneous data structures; logs, mail, conversations, locations, etc. This, in turn, helps us to more effectively and more efficiently manage, interpret and predict the outcome of our campaigns.
For example, if your organization invests heavily in media buying then you should develop a DMP (Data Management Platform) in order to segment your data and integrate data layers. This is especially important if you're focus is on programmatic advertising. The aim, in short, is to develop the ability to build your own Data Driven Attribution Model – one which will allow you to increase the effectiveness of your media buying.
Talent: training as a key element in data culture  
People are the foundation of any organization. Culture is formed around co-workers. For this reason, organizations must focus on promoting internal talent through quality training and attracting new and relevant talent capable of facing these new challenges through a process of internal digital transformation.
If you don't invest in your employees, or you fail to prioritize new technologies, you'll lose your competitive edge and you'll be unable to build a culture driven by data.
In their study on the digital environment, ISDI Business School outlined 61 different types of specialists within the field. Knowledge and talent are the most effective tools at our disposal, and we need to invest in them if we want to reach our goal of total digital transformation.
'If you don't invest in your employees, you'll lose your competitive edge'
Benefits of a data-driven organization
After completing the previous three steps, we can now centralize and guarantee the quality of our data. Doing this enables us to order, filter and obtain information for the development of advanced analytics, localization of patterns, application of predictive models, and identification of correlations and trends. For example, insights obtained through behavioral data can help us to increase conversion rate by up to 85%.
Relying on a data model and applying technologies (such as machine learning) during a digital marketing campaign enables us to build a robust validation framework – and generate higher quality data. From there, we can refine and improve our model.
We should be aiming to generate increasingly relevant business insights, in addition to sharing access to that information with the rest of the organization, storytelling through data visualization, and ensuring that data is accessible in order to promote a better understanding of our organization and the campaigns we manage.
Note* for the development of this article we have used content published in Rebel thinking and Facebook IQ
Photo by Franki Chamaki on Unsplash
About the author
I have been working in the Digital Industry since the year 2.000. I'm passionate about learning and teaching professionals from different countries and cultures. I'm a people-connector and away from Spain 6 months a year 😉
In IMPACT, we proud ourselves of having the best mentors for the startups that go through our programs.
Salva Suárez is a Specialized mentor for a Korean, an Italian and a Spanish startup from the IMPACT Connected Car acceleration program. He also teaches Digital Strategy in ISDI Spain and Latin America.
His extensive experience goes from working in companies like Domestika and IE Business School, just to name a few and he is Co-Founder, Partner and Managing Director of Good Rebels.
Even more IMPACT
Liked this post? Subscribe to our newsletter and stay on top of the latest IMPACT news. Open calls, job postings, opportunities for startups, and more!