IMPACT Connected Car, Funding the Movement partner, present at Autonomy Paris 2019
The European mobility startup acceleration project IMPACT Connected Car will be attending Autonomy (Paris) on the 16th and 17th October at Paris Grand Halle de la Villette.
IMPACT Connected Car will hold the Data and Connectivity "Shaping the future of Connected Car views from corps, investors and startups world" and host the Second Pioneer Awards on October 17th.
Barcelona, 15th of October 2019. The coming October 16 and 17th will take place at the Grande Halle de la Villette Paris, Autonomy and the international exhibition of sustainable mobility. The event is intended for professionals in the sector and will gather startups and investors interested in the landscape and future of European mobility.
IMPACT Connected Car startups and partners will showcase their solutions. The following list is a selection of the 31 startups portfolio that can be consulted here:
Xapix (Germany):

Xapix is building an orchestration platform for digital mobility services, providing vehicle manufacturers, suppliers, and service providers with ultimate flexibility, speed, and security around data interoperability.

www.xapix.io
Eccocar (Spain- Germany):

Accelerating through efficiency, the world's transition to sustainable mobility. Empowering fleet operators to get the full potential of their vehicles with their shared mobility platform.

www.eccocar.com
2Hire (Italy):

Technology that connects all kinds of vehicles, allowing remote-controllable interactions and access to parameter readings.

2hire.io
Capricode (Finland):

SyncShield secures vehicle connectivity, improves over-the-air management and helps to digitize business processes.

www.capricode.com
Better World (France):

Leveraging the collective intelligence of drivers to help automotive engineers conceive better cars.

www.better-world.io
Spark Horizon (France):

In order to accelerate EV adoption, between EV and charging stations. Spark has deployed the first public charging network, sponsored by sustainable brands, at high-traffic locations.

www.sparkhorizon.com
BeNomad (France):

By enabling accurate energy consumption and EV route planning, BeNomad facilitates the transition towards e-mobility.

benomad.com
Parkbob (Austria):

Parkbob organizes global parking data and transforms it into actionable information to enable better mobility decisions.

www.parkbob.com
xMotion (France):

xMotion turns driving data into an opportunity for saving lives.

www.xmotion.io/
Parquery (Switzerland):

Analysis of images from any camera to detect vehicles and provide real-time results on both parking availability and duration.

parquery.com
The project partners attending the event will be, among others, David Seoane, Project Manager  and consultant of IMPACT Connected Car, he has over 10 years experience on Fundraising in EU programmes, including proposal preparation, partner search and networking in INNOVATION funding programmes: H2020, INTERREG, ERASMUS+, LIFE Experience on EU PROJECTS management in such programmes.
Olivier Lenz, programmes director from FIA Region 1, responsible for the consumer protection activities of the FIA in Europe, the Middle East, and Africa. He supports the Automobile Clubs from the Region I headquarter in Brussels, Belgium. He manages various aspects of mobility policy work related to connectivity, efficiency and affordability, road safety and environmental protection from the consumer perspective.
Emily Carroll, acceleration manager at ISDI accelerator, has led the business acceleration part of IMPACT Connected Car as well as managing several other public and corporate innovation programs such as MERLIN Proptech Challenge, UNICEF neXst and currently IMPACT EdTech, a new program focused on educational technology. Emily has a degree from the University of Minnesota and a Master's from ISDI.
IMPACT Connected Car Data & Connectivity Panel 
The panel Data & Connectivity "Shaping the future of Connected Car views from corps, investors and startups world" will take place on Thursday,17 of October, at Stage 2 from 15:00 to 15:35. The discussion will be focused on the future of smart mobility and connected cars. The speakers will give their insights from the corporate, startup, policymakers point of view. They will also announce the 31 best startups of the programme disrupting the mobility sector with their projects. 
The speakers will be Olivier Lenz, FIA Region I Programme Director; Anna Sobczak, European Commission Policy Officer for Clusters and Emerging Industries; Ingrid Sarlandie, Plug and Play Mobility Innovation Manager and Laurent Evain, CMO / CSO of Xee, connected car platform and service marketplace.
Oliver Lenz will give his vision through his experience in connectivity, road safety and environmental protection from a consumer perspective; Ingrid Sarlandie will present her views on the Silicon Valley and Europe mobility startup ecosystem; Laurent Evain, who will address the audience regarding to his expertise as CMO of a connected car company; and Anna Sobczak will give insights related to her work on innovation, industrial change and emerging specialisation in intelligent industries, she will also be moderating the discussion.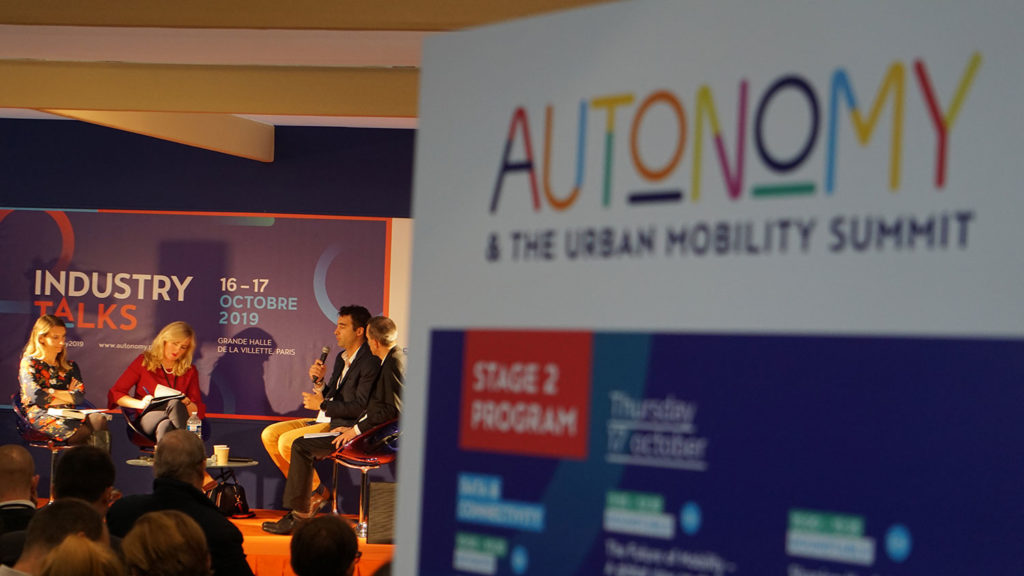 IMPACT Connected Car Pioneer Awards
The Pioneer Award is granted to the most promising startup from the second batch accelerated by IMPACT Connected Car, it will be rewarded with a prize on 15,000€ and the winner will be announced during the ceremony which will take place on October 17th, at Stage 2 starting at 17:15. The winner is chosen based on the achievements after the project's final review. 
The ceremony and award will be presented by David Seoane, who will explain what IMPACT Connected Car has been during the last 3 years. Then the awarded startup will be granted a 5 minutes pitch on stage and to finalize Virgine Perron, the European Commission officer, will grant the trophy ending the ceremony.
About IMPACT Connected Car
IMPACT Connected Car aimed at creating value link-chains for innovation in the Connected Car open space, with vehicles, infrastructure, device and TelCo interactions, and consumer and business services. Achieved through the acceleration and smartization of over 60 disruptive SMEs. The project distributed €2.1 million funding, equity-free. 
IMPACT Connected Car was led by top players in the fields of innovation and automobiles, including Mobile World Capital Barcelona, ISDI, FundingBox, Ferrovial Servicios, CTAG, FIA, Groupe PSA, the FIWARE Foundation, PARP, Insero, Mov'eo, MSAK, LPNT, Argus, HEVO, Little Electric Car, and Botcar.
This project received funding from the European Union's Horizon 2020 research and innovation program under grant agreement No 731343.
For further information:
Even more IMPACT
Liked this post? Subscribe to our newsletter and stay on top of the latest IMPACT news. Open calls, job postings, opportunities for startups, and more!